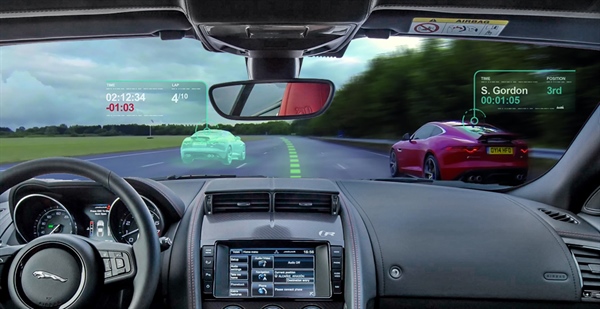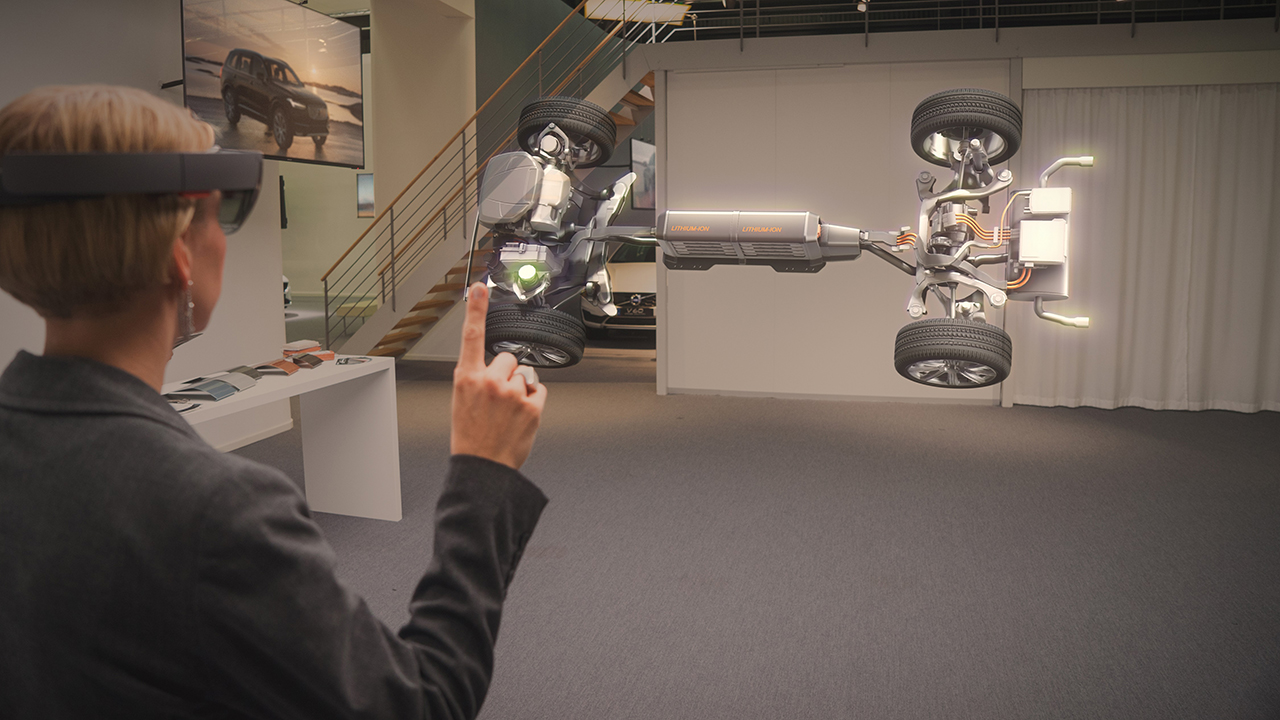 Aside from the many engineering visualization and remote diagnosis benefits the HoloLens could afford a race team, we feel that the HoloLens may also be able to offer noteworthy driver advantages. 

Virtual Reality devices such as the Oculus Rift provide immersive experiences that replace the real world. This prohibits you from seeing the actual steering wheel, locating the shifter, etc.. Further, the Oculus Rift is a fully tethered device, requiring a large gaming PC and a variety of wires running from your head to this PC. While this makes for a fun gaming experience, it has no practical application in real world race cars or in next generation simulation training scenarios that crossover from simulation to track day.
The HoloLens is a fully untethered, wearable PC. It also adds a variety of other innovations such as the Cortana AI and speech engines, eye tracking (gaze), spatial recognition, spatial audio and a variety of other sensors. The HoloLens provides a platform for a variety of innovations that can safely keep the driver informed, competitive and in control on both race day and in the simulator. The HoloLens also provides several advantages over typical vehicle Heads Up Display (HUD) technologies (see Jaguar HUD image), the most notable being that it can determine what the driver is looking at, a feature Microsoft refers to as "Gaze".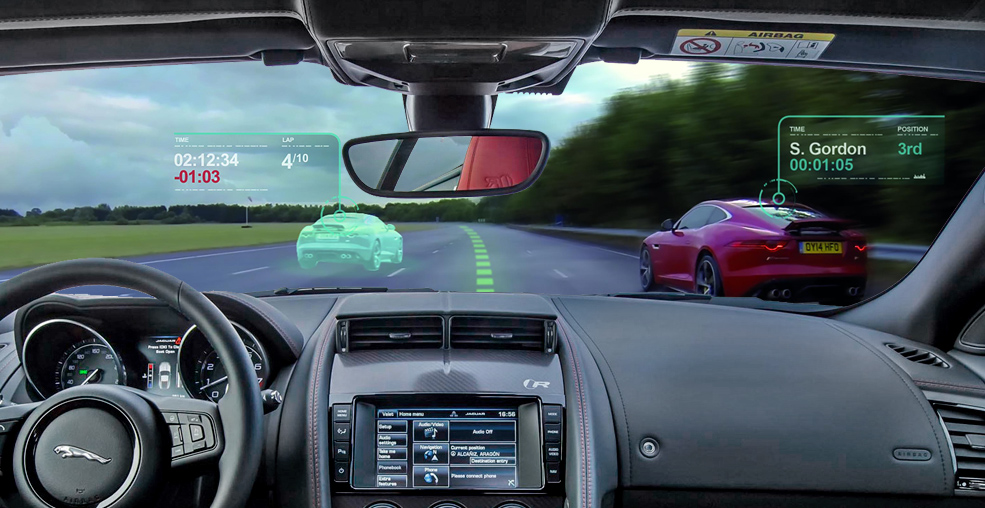 SimXperience has been preparing for the arrival of the HoloLens for nearly 6 months. We're actively developing and experimenting with Holographic technologies (think Iron Man style heads up display) combined with "virtual info displays" that can be "pinned" anywhere in the cockpit. In a sense, we're reimagining the role of racing simulation devices and envision a future where our world class engineers are with you virtually, wherever you are, a future where your wearable "sim tech" can provide an advantage on real world race day as well as transform your simulation experiences. We're examining the viability of HoloLens derived devices that could:
Provide drivers with relevant real-time information based on what they look at ("gaze")
One can imagine looking at another vehicle and seeing your closing rate, gap, time needed to close the gap at the current closing rate, etc.. Other information can also be displayed such as estimated fuel load and tire wear of a competitor the driver "gazes" at. These types of tools could be trained with in a simulator and utilized on race day, bring much needed consistency to driver in the loop simulation programs.
Provide drivers with real-time information in response to spoken requests
 All manner of custom voice commands could be created to display pertinent information in the drivers heads up display in response to a verbal command. This type of technology could be evolved into a "Virtual Engineer" or perhaps even a "Virtual Spotter". These concepts could also be applied with consistency between a simulation program and real world track days.
Track Position Recognition and Best Line Projection
A HoloLens could be taught to recognize an upcoming corner and project optimal line, braking points, entry speed and brake/throttle position information based on your best lap or the leaders.
Provide drivers with relevant safety related information
Flag status, crash information, track condition and weather information can be presented to the driver in an unobtrusive manner.
Allow Drivers to Configure the Vehicle Via Voice Commands
As alternative to increasingly complex steering wheel configurations, drivers can issue voice commands to set brake bias, vehicle strategy modes, etc..
While it's the very early days of augmented, mixed and virtual reality technologies, with no product claiming consumer readiness, we're committed to the R&D necessary to help turn these technologies into on track advantages for our simulation customers. We encourage you to join us in our quest to reimagine the race-day role of racing simulations technologies and tools.