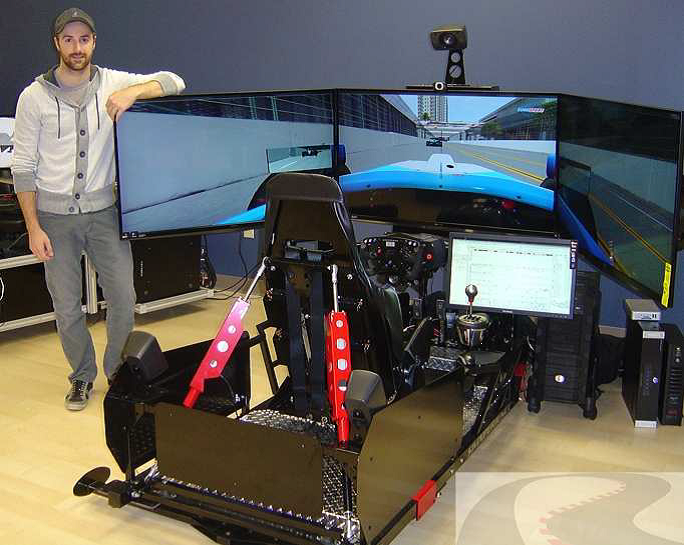 After a 'fine-tuning' session with Hinchcliffe and Sebastian Saavedra, new owner Davin Foster, a rising young karting star, gets his first experience with a world-class, high-tech racing classroom and simulator.
RaceCraft1, an official dealer and client training center for SimXperience Stage Series Racing Simulators, hosts IndyCar's newest winner, James Hinchcliffe, and Dragon Racing driver Sebastian Saavedra  for testing and fine tuning of a Stage V Motion Racing Simulator.
Davin Foster, a rising young karting star on the verge of making his transition to cars, recently completed a three-day intensive training program in the Stage V Simulator at the RaceCraft1 facility. The next phase of the program is to ship the package to Davin's family home so that he may continue with his training remotely.
"What an incredible experience, especially knowing that two top IndyCar drivers helped make sure it was the closest thing possible to actually being in a race car," said the 15 year-old son of a software engineer. "When I finally get to drive a car on track, I'll already know so much more than everyone I'm competing against. Once you get in the seat and into the rhythm of driving, the rest of the world sort of disappears and you start really learning how the car behaves, the tricks of the track and how to change the setup to make the car do what you want it to. I wish school had a machine that taught history like this! If my parents ever wonder where I am at midnight, they just need to follow the sound of a race car upshifting and hard on the gas."
The top-of-the-line unit that now belongs to Davin Foster is a SimXperience Stage 5 Pro which includes three 47-inch, 0 bezel HDTVs, a 22-inch touchscreen to adjust motion settings in real-time, power adjustable television height and pedal distance, Force Feedback Steering with quick-release GT and Formula wheels, sequential and H-pattern gearshift, Tilton pedals with Wilwood hydraulics,  a full motion system capable of over 250 updates per second including rear traction loss, and a full SimVibe multi-dimensional tactile feedback system. The system also includes the highly coveted SimXperience Commander 3 software package.
The SimXperience Commander software is the most highly tunable and user friendly motion software available today. It supports over 22 simulation titles, including iRacing, rFactor, and Project Cars. (Full List available here) ,  includes fully customizable virtual gauge and button box features, and tactile feedback tuning.
About SimXperience:
SimXperience is a premier motion simulator manufacturer with expertise in electronics, engineering, manufacturing and software development. SimXperience products are utilized worldwide in driver training facilities, homes, simulation centers and race driver development programs. The company's team of software, hardware and electronics engineers has crafted one of the most advanced, customizable and immersive simulations available at any price point. The SimXperience Stage 5 Motion Racing Simulator provides a complete professional racing simulation in your home or facility, and it's delivered ready to run. For more information contact a SimXperience representative.