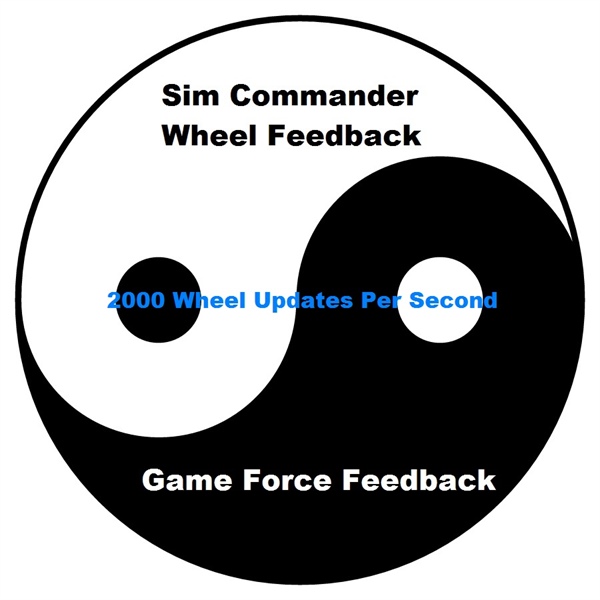 In this article we'll discuss the new AccuForce Dual Stream Technology that's included with the upcoming AccuForce Pro simulation steering system and how it is the Yin to your typical force feedback Yang.
AccuForce Dual Stream technology consists of enhancements to the wheel controller electronics and also to the Sim Commander 4 software. Typical game force feedback is communicated by a game to a wheel via a Microsoft technology known as DirectInput. The AccuForce Pro supports this communication at the fastest possible rate of 1000 updates per second (1000Hz). Users typically have very little control of this data stream. Most wheel manufacturers provide a few sliders such as intensity (or strength), dampening, spring and a few other minor adjustments. The AccuForce Pro supports all of these features and expands on them, We'll try to cover that in a future blog post for those who are interested.
In addition to the game force feedback stream, we add an another stream of data flowing to the wheel via the Sim Commander software. This stream also communicates to the wheel 1000 times per second (1000Hz). In total, the AccuForce Pro / Sim Commander 4 combination facilitates up to 2000 wheel updates per second, setting a new standard in simulation force feedback.
This allows the AccuForce owner to have a level of control not before seen in an off the shelf simulation steering system. It also allows for some very creative problem solving. 
Let's imagine that you're dealing with a really bumpy track and you're not able to be perfectly smooth due the strength of the force feedback. In a perfect world, you might like to have all of the force feedback except for vertical g-force induced bumps.
We could also imagine a scenario where a game is lacking in a particular area or perhaps you find that it's over steer  and under steer cues are a little late.
Utilizing the AccuForce Dual Stream capability, you can easily address these issues and many others. For the first time, if you choose, you can become the creator of your Force Feedback experience.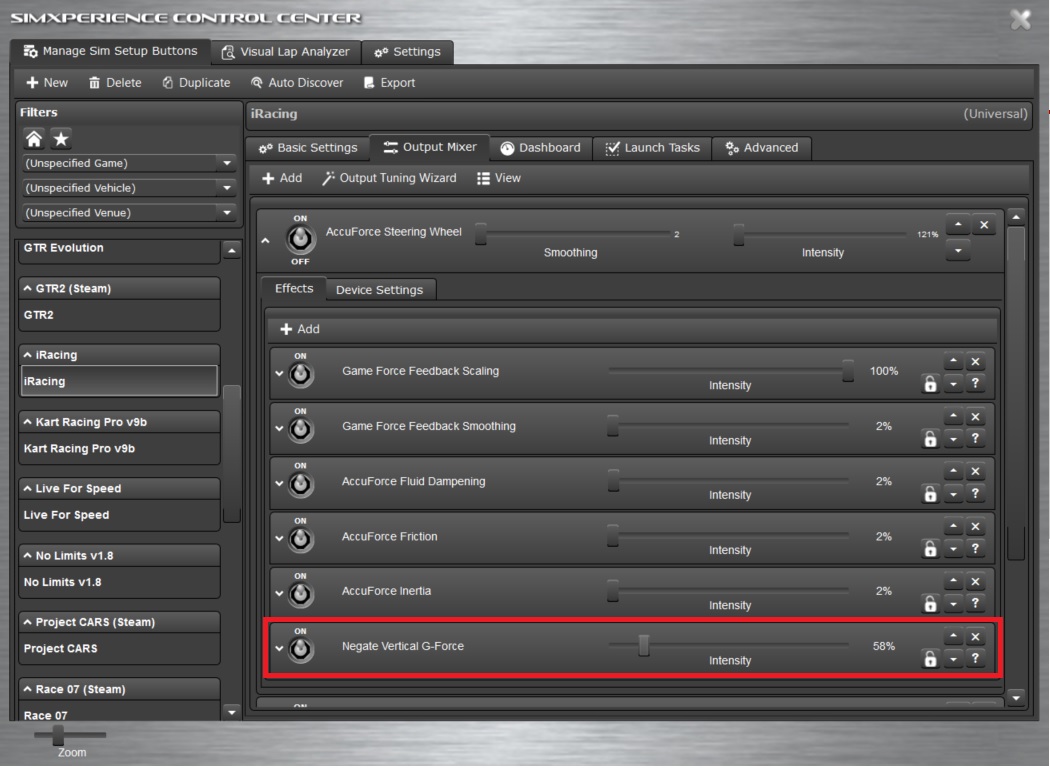 The above image demonstrates how one might use the Sim Commander 4 software to negate the vertical g-force component of a games FFFB by 58%.
The Sim Commander provides the ability to craft a customized force feedback experience on a per vehicle and venue basis. If you missed the blog entry on this functionality, it is available here:
Vehicle and Venue Specific Sim Setup Profiles
Once you've developed a great new force feedback experience for your favorite vehicle, you might like to share it. The SimXperience Owners Club feature of the Sim Commander 4 makes this a simple task. If you're not quite ready to build your own force feedback experience but want to check out what others have shared, the Owners Club feature will be useful for you as well. If you missed our Owners Club blog artiicle, more can be found here: 
It's important to note that the Owners Club and AccuForce Dual Stream features are entirely optional. You can still connect the AccuForce as a traditional force feedback wheel and not utilize this capability but you would be missing out on some really interesting functionality.
The Sim Commander software is a fluid, automatically updated software package. We've addressed many common force feedback woes via Sim Commander effects and the AccuForce Dual Stream capability but we're looking forward to the release and incorporating your ideas for additional effects and force feedback solutions.